Due to the craziness of summer, we have fallen a bit behind in our Great India Buffet Tour, and so when schedules coincided for free time two weekends in a row, Sabrina and I took advantage to make two buffet trips.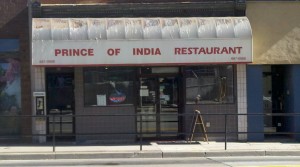 Our first trip was to the Prince of India buffet in Oakland. I have been to Prince of India a number of times throughout the years and found it enjoyable, but Sabrina had only been to the restaurant once, her freshman year of college, for what she reports was an abominable experience. She had not returned in the intervening 11 years, but it was the only buffet we could find open past 3pm on a Saturday, so she made the leap to venture back.
The buffet at Prince of India was small and unsurprising. They had all the standards, Chicken Tikka Masala, Saag, Chicken Curry, Mattar Paneer, naan, pakoras, rice, etc., etc. The Prince of India also includes free fountain drinks as part of their buffet, which was unique to our buffet experience so far.
The food was… good enough. Sabrina reported that it represented a definite improvement over the semi-traumatic taste experience she'd had there 11 years ago. We both agreed the food was good, but just good. Sabrina found the saag to be a bit greasy, though, I didn't mind it, but I've rarely met a saag I didn't like. The Tikka Masala was tasty and we found the moistness of the chicken to be great, but, we both agreed, the sauce was unabashedly mild. We expect buffet food to be mild, but this one was extra mild. Prince of India does offer hot sauce on the buffet, but unlike some of the fresh made chili sauces we've encountered at other buffets, this one appeared to be no more than something of the Frank's Red Hot ilk. There was a spiced cauliflower dish that I found enjoyable, considering that I never usually go for the dry vegetable dishes, I suppose it qualifies as the most pleasant surprise on the buffet. The rice pudding was perhaps my favorite part of the meal because if was very heavy on the cardamom.
At the end of the meal, we concluded that Prince of India was necessarily at the bottom of our list so far, but that's not to say we disliked it. We simply found it pleasantly mediocre. While we would not go out of our way to make a trip back to Prince of India, we also wouldn't talk anybody out of going. Considering that they have buffet hours until 5pm on a Saturday (and I believe the buffet is open fairly often other days, too), they may be the best place to go if you have a sudden buffet craving during off hours.
The following Saturday, my plans for a short trip fell through, and so I proposed to Sabrina that we might try People's Indian in Bloomfield. We had heard good things about it online, and we knew they had lunchtime buffet hours on Saturday. Joining us for this trip was Will, a fan of People's from previous trips.
The buffet at People's was among the smaller of the buffets we've visited, but we were otherwise greatly impressed. Aside from Tandoori Chicken there were none of the typical meat dishes in sight. There was a Chicken and Mushroom curry, a Chicken Shahi Korma, Aloo Saag, Chana Masala, spiced Zucchini and Matter Paneer. They had plain rice as well as a rice pilaf, and in addition to naan and pakoras, they offered Samosas on the buffet.
The first thing that struck us as we ate our inaugural bites was that the food was actually spicy. Hot spicy. Not extremely spicy, but certainly hotter than any other buffet we've tried. No need for extra hot sauce here. The dishes were also complex in flavor and fresh tasting. The Chana Masala was a particular favorite of mine and Sabrina's. I was also a big fan of the Shahi Korma, Sabrina was impressed with the moistness of the Tandoori Chicken and Will noted that the saag was richly flavored without being greasy. Sabrina liked the samosa filling, though found the wrapping less than ideally crispy, but chalked that up to an unavoidable consequence of being served on a buffet.
As we mused over our dishes it became clear that a Buffet Tour upset was in the works. Our assessments were confirmed by a delightful apres diner treat, an offering unique so far to People's buffet, a cup of hot chai to accompany our our dessert. While we all enjoyed the chai, Sabrina and I shied away from the fried dough dessert, but Will declared them to be a simply perfect specimen of Indian doughnut-ery. I had some of the rice pudding, and found it to be the only mildly disappointing thing on the buffet. There just wasn't enough spice or flavor to it. No matter, I took a few bites and thoroughly enjoyed my chai.
By the end of the meal, People's ranking was clear. While we did not think it strong enough to topple the leading buffet, Tamarind, we did find that it merited second place, pushing out Coriander, which had previously held that position. Despite having a much smaller buffet, People's boasted a taste quality to trump Coriander in the end!