Of all the non-Western cuisines I have experimented with, the one that has most consistently eluded me is Chinese cuisine. There have been one or two recipes over the years that have worked out okay, but time and time again, my attempts fall flat, leaving me unenthusiastic to try again — especially when cheap take-out is an easy phone call. It's been a while since I tried a Chinese recipe, though, and on my current low-carb diet, I find myself without the option for Chinese take-out (as many of my favorite dishes are too high carb), and so I am left with little choice but to go without or attempt my own rendition.
I took to the internet to research Lo Mein. The following is my attempt to synthesize all of those recipes I found that looked the most promising.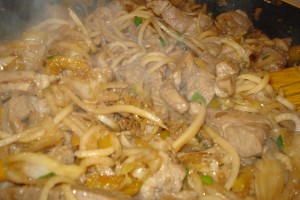 SARAH'S PORK LO MEIN with TURN-OODLES
1/4 cup soy sauce
2 tablespoons oyster sauce
1 teaspoon honey
3/4 cup chicken or beef broth
1 Tbs. dry sherry or rice wine
1/2 teaspoon ground ginger
1 lb. pork
2 tablespoon sesame oil
2 lbs. spiralized turnips
2 tablespoons vegetable oil
1 1/2 teaspoons minced garlic
various vegetables, thinly sliced, such as, julienned carrots, shredded cabbage, sliced bell pepper and/or shittake mushrooms
4 green onions, thinly snipped
Combine the soy sauce, oyster sauce, honey, broth, sherry and ginger in a re-sealable container. Cut the pork into strips and marinate in this mixture for at least 30 minutes (I was able to marinate overnight).
Peel and spiralize your turnips. Toss with sesame oil in a large bowl. Set aside.
Heat the vegetable oil in a large skillet. Saute garlic and vegetables (except green onions) until softened. Add the pork strips and marinade. Stir fry until pork is browned. Add the spiral turn-oodles and stir-fry until turnips have softened to a cooked-noodle consistency (you can leave them a little "al dente" or cook them longer for a softer texture, as desired). Garnish with green onions; serve and enjoy!
I was pleasantly surprised with how this recipe turned out. It was less saucy than take-out, but I suspect that's because I added quite a lot of cabbage. For a saucier version more like take-out, one could either add fewer vegetables and/or turn-oodles, or double the recipe for the marinade. As is, this recipe was still very tasty and "scratched the itch" for Chinese food.