I recently recalled one of my favorite dip recipes from years gone by when search for recipes I hadn't made in awhile. I originally received a version of this recipe from home chef extraordinaire, Lisa Di, who served it at all of her cocktail parties and picnics back in my college days.
Alas, but my scribbled paper copy the recipe I took down directly from Lisa is necessarily lost to time, but I found a very similar version on food.com. After a few tweaks to ingredients and method, here is my recipe, heartily reminiscent of those old days: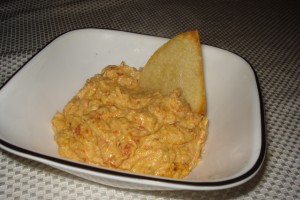 SARAH'S SUN-DRIED TOMATO & ARTICHOKE DIP
1/2 cup sour cream
1/3 cup mayonnaise
4 oz. cream cheese
1 (8 oz) brick of white cheddar (or swiss or parmesan or other white cheese)
1/2 cup sun-dried tomatoes
1 (14 ounce) can artichoke hearts, drained
1 1/2 teaspoons minced garlic
a dash, or more, of ground red pepper
If you have an immersion blender, you can use my lazy method for making this dip. Otherwise, chop up or shred (i.e. the cheese) the whole ingredients ahead of time. If you do have an immersion blender then simply combine all ingredients in a medium casserole dish. Heat in the oven at 350 for 5-10 minutes, or until the cheese softens and begins to melt. Pulsing your immersion blender, chop up the amalgam of ingredients as desired. I prefer to have a little texture to this dip, so I don't process it smooth, only until the artichokes and tomatoes are chopped a bit and well combined. Serve with chips or crackers.