There is just something about an Indian restaurant buffet that I find hard to beat. Being mildly obsessed with Indian cuisine, my drive to frequent Indian restaurants is far from surprising, but my particular affinity for the buffet bears special explanation as it is the seed of Sabrina's and my idea for a progressive tour.
The buffet, of whatever ethnicity of food, is a controversial institution. Health nuts hate them, red-blooded American appetites love them… Perhaps the most compelling cuisine-conscious argument against the restaurant buffet is that the quality of food over the buffet represents a noticeable downgrade in quality from off-menu items.
Be that as it may, from my perspective, a cost-benefit assessment of the India Buffet makes it the most alluring choice for South Asian dining. My own growing skills in curry cookery will satisfy my cravings on the average day and make off-menu dining at your average Indian restaurant a questionable upgrade. Do most Indian restaurants cook with superior skill and authenticity to me? Probably. But will ordering two curries and a basket of naan make me happier than cooking two curries and warming up some store-bought naan? Probably not.
The beauty inherent in the India Buffet is that I cannot attempt to recreate it at home (without ludicrous and laborious effort), and I cannot order the full splendor of an Indian meal off the menu without spending a fortune for more food than I could eat in two weeks. The essential appeal of the India Buffet is bountiful variety. Not only do you get a choice of a few (or more) curries, but you get the condiments, the chutneys, the raitas, the breads, the dry vegetables, the desserts, the unexpected delights…
And so, when I told Sabrina two months ago that I had a craving for India Buffet, and we found ourselves stymied by the choices of restaurant, the idea for our India Buffet Tour was born. We have already made three stops on our tour of Indian restaurant buffets in the Greater Pittsburgh area. Let me catch you up on the results so far.
Taste of India, Bloomfield, 4320 Penn Avenue, Pittsburgh, PA 15224
Sabrina, being a Lawrenceville dweller and Indian food aficionado, is such a fixture at Taste of India in Bloomfield that she is, more often than not, the reigning mayor on foursquare, but I had only ever tried food from the CMU cafeteria installation. Still, it was close to both of us, it had a buffet, and so it won out as our first stop on the tour.
The restaurant itself was rather empty with only two other tables occupied when we arrived. The buffet itself was much as expected with all the trimmings, the standard chutneys, rice, naan, kheer, a variety of curries, dry vegetable, green salad and tandoori chicken (the last two of which I always skip over). I was disappointed that day in the lack of color among the curries, specifically the lack of a spinach curry. I expect and enjoy having a variety of color in curries. Some red (makhani, tikka masala, madras, etc), some yellow, white or orange (kormas, dals, chana masala, etc), some green (saag/palak). I understand that buffet offerings change, but that day they were all basically red curries. There was a chicken tikka masala, a basic chicken curry, and a malai kofta. As it turned out the malai kofta was quite good, and something I would not have ventured to try off menu, but I was disappointed in the lack of color variety and specifically in the lack of spinach dishes.
On the upside, there was an unexpected delight in the form of lentil balls. Neither Sabrina nor I had tried this dish before and we were both pleasantly surprised. As it turns out, this is a chilled dish made from white lentils served in a yogurt sauce with garnishes of cilantro and tamarind. They were especially tasty and became an instant favorite.
All in all, the Taste of India offered good quality food and a good variety.
Tamarind, Flavor of India, Oakland, 257 N. Craig Street, Pittsburgh, PA 15213
The buffet at Tamarind came highly recommended by Sabrina, and so for our second stop about a month later I was eager to try out her recommendation. That recommendation came with a warning, however, that the buffet would be smaller. Indeed it was smaller than the Taste of India buffet, but not by as much as I had imagined when she first described it.
Smaller, perhaps, but I knew on first glance that the dishes were certainly more unique. Their coconut chutney was a first for me and a welcome change from the usual coriander, tamarind and random pickle. There was naan, of course, but also a savory pastry that resembled small donuts. The curry selection was much more up to my colorful expectations, and I was especially impressed by the presence of a lamb saag. Since I am generally unenthusiastic about chicken, a lamb dish on a buffet was quite exciting… and spinach, nonetheless!
The difference in quality was apparent from the first bite. Whether it was the spice blends or the freshness of the ingredients, I could not say for certain, but the food at the Tamarind lunch buffet was definitely a cut above. The flavors were more intriguing and complex than at Taste. The lamb saag was particularly good, as was an eggplant and cauliflower dish (Sabrina was less impressed than I was with the latter), but nothing on this buffet was a disappointment.
Tamarind took a clear and early lead.
Taj Mahal, Ross Township, 7795 McKnight Road, Pittsburgh, PA 15237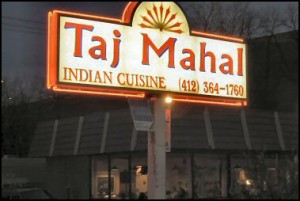 Having a little more time to spare over the holidays, we decided to make our more-or-less monthly buffet trip a bit early. After crunching schedules and evaluating our remaining options, we decided on the Taj Mahal restaurant on McKnight Road, which has a lunch buffet and a dinner buffet, such that it seems whenever they are open there is undoubtedly a buffet.
We attended the dinner buffet on a weekday evening. The building is tarp-draped and under renovation, and no wonder, because even though the seating was only about half capacity, it still felt cramped inside.
Perhaps it was the ambiance, but perhaps it was the enormity of the buffet. The advantage of the Taj Mahal buffet was undeniable even on first sight. It was at least twice as large as the Taste of India buffet with offerings I had not seen anywhere else. There were all the requisite vegetable curries, chana masala, vegetable korma, as well as a few chicken curries and even a goat curry. More impressive there was an entire vegetarian wing with paneer tikka masala and vegetable biryani, along with a peculiar Chinese-style tofu dish. Chutneys were numerous, as were appetizers including fritters and papaddams, the peppery crackers served as a standard warm-up at many sit-down, off-menu restaurants. The dessert selection was also large, with a mango mousse, kheer, a peculiar puffy pancake and a too-sweet blood-orange candy.
The bounty of the Taj buffet was exciting, though ultimately the quality was standard. All the curries were enjoyable, but the quality was not up to par with Tamarind. The highlights for me were the paneer tikka masala, the piquant sauce of the goat curry (still undecided about the goat meat itself), and the papaddams which made a surprisingly tasty, spicy and not-too-filling starchy complement to use in alternation with the naan. Lentil balls were a welcome chance to revisit the flavors we had come to enjoy at Taste of India, but weren't quite as good as those at Taste, lacking some of the extra fresh flavor of the garnishes we had enjoyed the first time.
In the end, we decided that Tamarind still won out on the basis of far superior taste quality to our other buffet stops, but Taj Mahal gets definite points for the vast and various offerings of its dinner buffet.