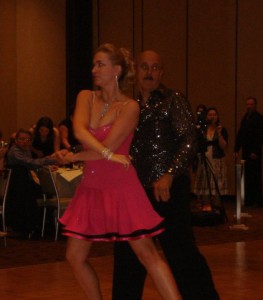 There is a particular pattern on my studio's advanced mambo syllabus that I have taken to calling the Smorgasbord of Randomness, based on the seemingly arbitrary selection of multitudinous elements packed together in one figure. I could not help, however, thinking of this moniker more literally when I hosted a recent dinner party.
Over the weekend, a confluence of circumstances conspired to bring a somewhat unlikely a collection of guests to my dinner table. Among them were Sabrina and Ted, as they are quite frequently the fulcrum of my guest list for parties, be they dinner or cocktail… or occasionally fondue, fellow dance instructor extraordinaire, Roger, who attended in prelude to his five-day belated birthday bar crawl (more on that to comes), and internet maven Saundra Kane, who has the parallel distinction of being my mother.
As with most modern dinner parties, it happens that many guests have dietary restrictions and strong food preferences. With Sabrina being a vegetarian and Ted being an almost, kinda, sorta vegetarian who also eats chicken on occasion, I decided to make Indian food, a cuisine which is perhaps tastiest in vegetarian form. But with the addition of Saundra, I needed to adjust my strategy. As a borderline diabetic and woman of tried and true American/Western European culinary tastes, Saundra would need, I knew, some non-Asian, low-carb additions to the menu. One side dish was obvious… whipped cauliflower, the diabetic's answer to mashed potatoes, a recipe that is both easy and delicious. Contemplating the menu further, I asked myself, what low-carb food, within Saundra's culinary realm, would be most like curry? The answer was, of course, stroganoff.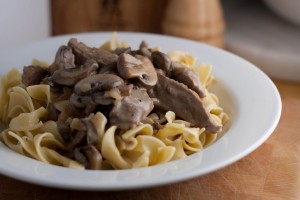 For years I have endeavored to make a tasty stroganoff from scratch, to find a recipe that requires no McCormick dry mix packets or cans of mushroom soup. I researched a plethora of recipes on Food.com, taking what I liked from one or the other to create my own stronganoff recipe. The result is a recipe both delicious and versatile. While I made it as a beef stronganoff, it can easily be converted to chicken or mushroom (i.e. vegetarian) stroganoff to fit a variety of diets and tastes.
Finally, I found myself unexpectedly with a supply of pitted dates, and so, despite the fact that Sabrina had taken on the task of providing a cheese tray, I bought a package of bacon so as to make one of my favorite appetizers, a simple and sinfully delicious finger food I learned from my friend Paloma, master of Spanish cookery.
These three recipes would constitute a meal in themselves for a smaller gathering, but in my case, they were only a few random parts of the smorgasbord.
PALOMA'S BACON-WRAPPED DATES
package of sliced bacon
pitted dates
wooden toothpicks
Cut the bacon in half down the center of the package so the slices are half as long. Roll each pitted date in one half slice of bacon and secure with a toothpick. These appetizers can be fried right away or made ahead and refrigerated for a few hours so that they can be made fresh right before serving. Heat a non-stick skillet to medium or medium-high heat and fry the bundles until bacon is crisp.
I don't know exactly how Paloma did it, but my strategy for frying these appetizers so that the bacon gets done evenly is as follows. I first place each date bundle on its side with the top overlap of bacon facing down and the tip of the toothpick touching the pan. When that side is done, I flip and do the other side (using a spoon or utensil to manipulate the pieces; the toothpick tip will be hot from sitting in the bacon grease), again with the toothpick tip touching the pan. Finally I stand them upright so that the bottom gets done and the toothpicks cool off a bit before I take them out of the pan and set them on a paper towel to drain.
MASHED CAULIFLOWER
2 (1lb.) bags of frozen cauliflower
1 (8 oz) package of cream cheese
shredded cheddar cheese, optional & to taste
white pepper, to taste
Bring a large pot of water to a boil and add the cauliflower. Boil at least 10 minutes until cauliflower is tender. Drain the cauliflower in a colander. Use a food processor, immersion blender or electric beaters (the latter makes a more textured or "lumpy" mashed consistency) to whip the cauliflower and combine it with the cheese. Doing this when the cauliflower is still piping hot will help the cheese melt.
The cauliflower can be served hot at this point, but sometimes it can be a little soupy at first. I like to put it in a casserole dish and bake it to give it a firmer texture. It's convenient to make first and then leave in the oven on low-ish heat while preparing the rest of dinner.
BEEF, CHICKEN OR VEGETARIAN STROGANOFF
2 lbs beef, chicken breast or wild mushrooms
4 tablespoons butter
1 large shallot, chopped (if unavailable, 1 teaspoon minced garlic)
1 onion, sliced
1 cup beef broth or chicken broth or vegetable broth
1 tablespoon Dijon mustard
1/4 teaspoon white pepper
1/2 cup white wine
1 lb portabello mushrooms, quartered (if not using mushrooms to begin with)
1 cup sour cream
Cube meat or slice mushrooms. Melt butter in a medium to large saucepan and use it to saute the onion and shallot over medium heat, about 10 minutes. Add the meat or mushrooms. Add the broth, mustard, white pepper, wine and additional mushrooms (if using). Heat over low fire to desired doneness. I like to stew slowly all day until the meat falls apart, but to each his own. Once meat and mushrooms are cooked as desired, if there is still a lot of liquid left, strain it out of the pan and into its own smaller saucepan or skillet. Bring liquid to a boil and stir frequently until liquid is reduced to a sauce that will coat the solid ingredients like a gravy. Return the reduction to the solid ingredients. Heat through and remove from burner. Stir in the sour cream and serve!
For people who are not concerned about carbohydrate intake, the reduction step can be eliminated by instead removing enough liquid from the pan to make a paste with 4 tablespoons of flour. Return the paste to the pan and heat until it thickens. I do my best to search for ways to eliminate carbs at every turn, which is also why I didn't serve it over noodles or rice. Either of these options is, of course, your prerogative for a traditional stroganoff.
So concludes the non-Asian portion of my Smorgasbord of Randomness. Stay turned for vegetarian curries.