There are a few foods I can't help but miss on a low carb diet. Pizza is one of them, and the whole complement of tortilla-based Mexican dishes. Tortillas are difficult to substitute for. Rather than force some type of low-carb ingredient into tortilla form, I've found it's often better just to approach the recipe from a different angle. Having had recent success taking such an approach with a pizza-inspired recipe, I decided to do the same with Quesadillas.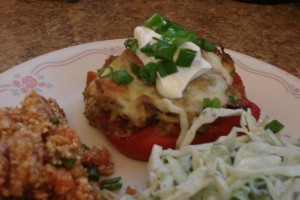 SARAH'S QUESADILLA STUFFED PEPPERS
1/4 cup oil
1/2 cup lime juice
1/2 cup chicken broth
1 teaspoon garlic, minced
1 teaspoon chili powder spice blend
3 tablespoons chopped cilantro or cilantro chutney
1lb chicken
3 bell peppers
3/4 cups taco cheese, shredded
1 (10oz) can tomatoes with green chilis, drained
8 oz monteray jack cheese
green onions
sour cream
Combine oil, lime juice, chicken broth, garlic, chili powder, cilantro and chicken in a saucepan or crockpot. Simmer until chicken is done enough to shred with a fork; this will take several hours. Keep a saucepan on low, covered, stirring often; crockpot can be set to high. Expect 3-4 hours.
Preheat oven to 400. When chicken filling is getting close to ready, cut bell peppers in half; remove seeds and stems. Place insides up on a cookie sheet or in a large, shallow casserole dish. Distribute taco cheese evenly among pepper halves. Bake at 400 for 20-30 minutes, or until cheese gets a bit golden brown. Remove from oven and set aside.
In a large bowl, combine shredded chicken, tomatoes with chilis, and 4 oz of shredded monteray jack. Distribute filling evenly throughout the peppers. Shred or slice the remainder of the monteray jack. Top the peppers with the cheese. Bake on 400 another 20 to 30 minutes until the cheese is melted and a bit golden brown.
Garnish with green onions and sour cream and serve.