I've spoken recently about the conundrum of Thai curry paste. While it seems like a good idea, in theory, to make my own, the requirement of so many specialty ingredients to make a Thai curry paste even approaching authentic makes the prospect of a homemade paste more daunting than most culinary projects. As a result, I've been investing in some pre-made pastes.
It started when I found a good deal online for Thai Kitchen Red Curry Paste
. I was in the mood to make my recipe for Thai Pumpkin Curry, and I knew I had used this brand of red curry paste before in that recipe to good success. In searching out this paste online, however, I encountered some other brands of curry paste not available in my average grocery store. I opted for the Thai Kitchen brand for the pumpkin curry, but when I discovered a recipe I wanted to try for Asian Meatballs in Green Curry Sauce, I remembered seeing those other brands and decided to give one a try.
I ordered a jar of Mae Ploy Thai Green Curry Paste
to use in the recipe. I was happy with the recipe and the flavor of the curry paste and so I went looking to see what other pastes they offered.
As it turned out, Amazon offers a variety of Mae Ploy curry pastes, including massaman! I was especially excited about the massaman paste. Since my discovery of turnips and their potato-like qualities, I've been anxious to try a massaman curry; potatoes are a rather iconic ingredient in this curry and I was excited to substitute turnip chunks as a good stewing vegetable. I also picked up a Mae Ploy Yellow Curry Paste
, though I have admittedly never had a Thai Yellow Curry, but I was intrigued and it was on sale so I decided to buy it as well. Culinary adventures with yellow curry to come. But for now, massaman!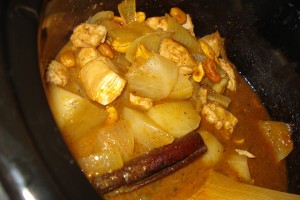 SARAH'S MASSAMAN CURRY
2/3 cup unsalted peanuts
1 (14oz) can coconut milk
4 tbsp massaman curry paste
1-2 lbs. chicken breasts, cubed
2 lbs. turnips or potatoes, peeled and cubed
1 onion, cut in wedges
1 lime, juice and zest, or 1/4 cup lime juice
1 cinnamon stick
1/2 teaspoon cardamom
1 tsp tamarind paste (I use Tamicon concentrate)
1 tbsp brown sugar
2 tbsp fish sauce
Place the peanuts in a dry, non-stick skillet. Heat over medium-low fire, stirring often, until the peanuts are golden brown. In the alternative, place on a cookie sheet in the oven at 400. Check on and stir every five minutes until roasted. Set peanuts aside.
In a slow-cooker or large saucepan, combine coconut milk, curry paste, chicken, turnips (or potatoes), onion, and remaining ingredients. Simmer covered over low fire (for slow-cooker: 4 hours on high, or 8 hours on low) until chicken reaches desired done-ness. Toward the end of cooking, add the peanuts and heat through. Serve over rice (or cauliflower rice) and with other favorite Thai dishes.