A few months ago I embarked on my project to hone the preparation of cauliflower as a substitute for rice. My first effort in this project was the conversion of a favorite Mexican Rice recipe to a cauliflower version. It worked well enough, but since then I have accumulated further expertise in the endeavor, most significantly that keeping the cauliflower raw by any means necessary vastly improves the texture of the dish.
Being in the mood for Mexican food on a recent weekend, I wanted to go back and give this recipe another go with the know-how I have acquired from recent projects.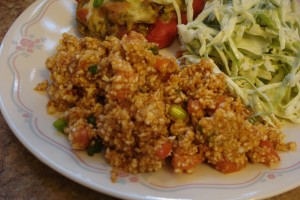 SARAH'S MEXICAN CAULIFLOWER "RICE"
2 tablespoons oil
1 medium onion
2 teaspoons minced garlic
1 tablespoons chili powder spice blend
1 (8oz) can tomato sauce
1 bouillon cube, chicken or beef, crushed
frozen small mixed vegetables (i.e. corn, peas, diced carrots, etc.), optional
2 roma tomatoes, de-seeded and diced
5 cups cauliflower rice
green onions, sliced or snipped
1/2 teaspoon salt
Rice your cauliflower. Fold into a clean kitchen towel and set aside.
In a medium skillet, heat oil. Saute onion and garlic until softened. Add chili powder, tomato sauce and bouillon cube. Heat through. Add mixed vegetables, if using. Simmer on low fire until vegetables reach desired tenderness. Allow to cool.
In the meantime, de-seed and dice tomatoes. Combine cauliflower rice with tomatoes, green onions and salt until well-combined. Once the tomato mixture has cooled a bit, stir into the rice. Serve with your favorite Mexican dishes.