The discovery of turnips has opened a lot of doors for me in terms of low carb recipes. With a carb count similar to cauliflower, but a shape and texture more like a potato, the turnip is an ideal substitution in many cases. It can be spiralized into spaghetti or noodles, it can be chopped into chunks for roasting and stewing, and it can be mashed or whipped as a substitute for mashed potatoes in many recipes.
This recipe, an Irish concoction called Colcannon — basically mashed potatoes with cabbage — is one I have made in the past with potatoes. Substituting turnips turns it into a truly delicious and low-carb dish.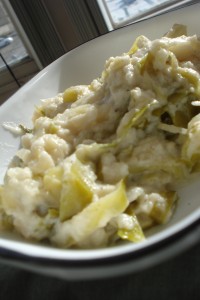 SARAH'S TURNIP COLCANNON
2 lbs. turnips
2 tablespoons bacon fat, or 4 slices of bacon, chopped
1 onion, chopped
1 teaspoon minced garlic
1 lb. cabbage, finely shredded
1/2 cup sour cream
salt and pepper
green onions, sliced or snipped
Peel turnips and chop into large chunks. Boil in a large saucepan of water at least 20 to 30 minutes until the turnips are tender.
Meanwhile heat the bacon fat in a medium saucepan that you can cover. If you don't keep bacon fat, then you can fry up 4 slices of chopped bacon. Once bacon is crisp, or fat is melted, add the chopped onion and minced garlic. Fry in the bacon fat until onion is softened. Add the shredded cabbage, stir and cover. Allow the cabbage to steam/fry with the onion, garlic and bacon fat until the cabbage is soft.
Meanwhile, drain the turnips and mash with the sour cream, salt and pepper. I like to use an immersion blender to get the turnips as smooth as possible. Once turnips are mashed, combine with the cabbage mixture in a casserole dish for heating/serving. Stir in green onions. Colcannon can be served now, or can be kept on low in the oven while other food preparation for the meal catches up. Serve with gravy, au jus, or cream sauce.