While this coleslaw recipe needn't be exclusively for tacos, I did originally find it as part of a fish taco recipe, and after bringing it to Taco Night at Sabrina's house, I have proven that it works just as well with Sabrina's slow-cooked pork carnitas filling as it does with fish. I imagine the same is true of shredded beef or chicken. What's great about this slaw is that it contains such a variety of traditional Mexican taco flavors, it makes for an easy and complete way to garnish any sort of taco meat, fish or other protein-rich filling. Put it this way… when I add this slaw to a taco, I don't even need to add cheese. Ingredients below are given in recommended amounts, but proportions for this recipe are hard to mess up, so if you want more of one flavor or another, feel free to exercise your creative freedom.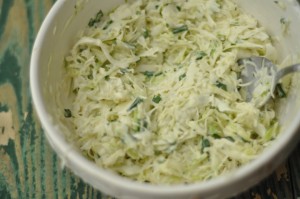 SARAH'S CILANTRO SLAW
1/4 to 1/3 cup fresh cilantro, chopped, or 1/4 cup cilantro chutney
2 green onions, snipped or sliced thin
2 green chilis or jalapenos, minced (optional)
juice and zest of one lime
1/3 cup sour cream (or more, if needed to coat; see below)
dusting of ground cumin, or a sprinkling of cumin seeds
one small cabbage, shredded, or one bag (10 to 16oz) or coleslaw mix
Chop up all of the fresh greens (i.e. cilantro, green onions, jalapenos) and put in a small bowl or container. Squeeze lime juice over them. Stir in mayonnaise and cumin. At this point, the dressing mixture can be stored in the refrigerator until closer to serving time. Dressing the slaw closer to eating time keeps it from getting soggy.
Shortly before serving, place dressing in a larger bowl and add coleslaw mixture a bit at a time until slaw is evenly coated and dressing is used up (i.e. no dressing pooling in the bottom of the bowl). If, at this point, you still have a small portion dry slaw, then you can add additional mayo in order to stretch the dressing to cover the remaining slaw. Serve fresh as a side dish, or as a taco filling with meat or fish.