No aspect of Invisalign treatment inspires more trepidation than the tooth attachments, also called buttons or bumps. I experienced more than a smidgen of trepidation myself. Last Tuesday, after five weeks of wearing the aligners (three of those with aligners that had the attachment wells, or "bumps"), I finally got my attachments put on my teeth!
Before I go into details about the attachments and the process of getting them on, let's flash backward to my first week of "bumpy" aligners. I related in my last Invisalign blog that I had mixed feelings about the aesthetics of the bumpy aligners. In the meantime, I've gotten pretty much accustomed to them, aesthetically. People don't really seem to notice. Most of the time, when the subject of my Invisalign treatment comes up in conversation among people "in the know" (i.e. people who I've told about the treatment), people can't tell whether the aligners are in or not, and don't notice the bumps until I specifically point them out. In fact, my orthodontist's assistant had me flat on the dentist chair and under the lights, ready to prep me for the attachments, when I said, "Should I take my aligners out?"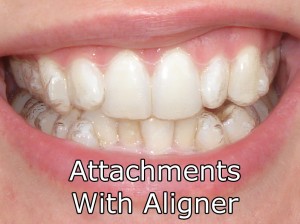 The biggest hurdle I faced the first week of my bumpy aligners was mouth irritation. My mouth, being unaccustomed to bumps on my teeth, got irritated at the places on the inside of my lips where the bumps rubbed against them (for some reason only on the right side of my face). I got canker-like stores and it took about five or six days from the start of the irritation for it to heal, and luckily I didn't have the attachments actually on my teeth, so I could take my aligners out during periods of heavy conversation to keep them from getting further inflamed (unlike actual canker sores, they felt fine when the aligners weren't on). And so, my mouth had the opportunity to get accustomed to the bumps without a 24 hour barrage of irritation.
Also in the time since my last blog, my orthodontist posted the animation of my treatment projection. Check it our here.
Now I come to my appointment Tuesday where I got my attachments. I was in the middle of aligner three, which was good, but not typical. Because my orthodontist was on vacation last week I had to wait five weeks rather than four to get my attachments. As a result, I was fully adjusted to the present aligner, so I don't have to deal with getting used to a new aligner on top of the addition of the attachments.
I had more or less resolved myself to getting all the attachments, even the one on my right eye tooth that I find most aesthetically bothersome. Good thing, too, because the first chance I had to talk to my orthodontist, my mouth was already trussed up with all the appliances for keeping my mouth open and lips peeled back during the attachment application.
The procedure for getting the attachments on was really no big deal. Many Invisalign bloggers online seem to weather this experience with much physical and emotional trauma. I don't get what the big deal is. They propped my lips open with plastic spreaders (not something I'd like to wear every day, but by no means uncomfortable for the space of 15 minutes). The orthodontist's assistant cleaned the surfaces of the teeth where the attachments would be put on, inserted pads and suction to absorb excess saliva. She tried to put in a tongue guard to keep my tongue basically caged up, but I couldn't bite down with it on, so she took it off and basically told me just to keep my tongue out of the way, which I did with little difficulty.
The assistant then did some mysterious preparatory things including, I believe, putting glue on my teeth. Then the orthodontist came in, literally put them on (via a template which is fundamentally a softer version of my current aligner) then left again. I respect his wanting to be involved and being the one to "put on the attachments" officially, but I think the assistant probably could have handled sticking these templates on my teeth. From there she "cured" the attachments with some manner of light on a small hand-held wand. Once my attachments were properly cured, she removed the template and set to cleaning up the glue. This is the only part of the process that I could imagine anyone would find unpleasant, but unless one has a severe dental phobia, I can't imagine why. She used some manner of vibrating instrument to clean away the excess glue that got between my teeth and other places it shouldn't been. Interestingly enough, they glue was not cleaned off the outer fronts of my teeth, leaving my teeth feeling a little rough; she said it would come off bit by bit as I brushed my teeth and took the aligners on and off. She also polished my attachments so to smooth out rough edges. I was told that they would smooth ever further as I take my aligners in and out.
All in all, no where near the traumatic process that so many bloggers have bemoaned. At no time did I experience any discomfort above and beyond that of an ordinary teeth cleaning.
Now for the aesthetic issue. First of all, I had a minor misunderstanding about what the attachments would look like. When the orthodontist originally told me that they use "clear" material for the attachments, I pictured clear like glass. Well, this "clear" material is actually a "foggy" clear so that it appears to match your tooth color while still looking like a part of your tooth. On the upside, it blends in fairly well, and doesn't look like a glass bead on my teeth (which I had imagined). On the downside, it is opaque-ish, and so you can easily catch sight of it when you catch it on a side angle, rather than looking at it straight on.
The bottom line is, it looks less obvious that I expected with my aligners off, and it is a little more visible when the aligners are on, but not really that much more than when the bumpy aligners were on my bare teeth. The aligners fit a little tighter with the attachments, and it is a bit harder to get them off (I broke the tip on one of my retainer "outie" tools trying to pop the bottom ones free). They certainly aren't the "vice grip" one Invisalign patient described in my online research. My experience leads me to the conclusion that most Invisalign bloggers are either overly dramatic or woefully misinformed about their treatment such that all of these events prove to be so shockingly traumatic.
It strikes me that a lot of Invisalign patients who blog or comment online really overemphasize the bad parts of this process. Many times these "traumatic events" are the results of bad research ("OMG I never heard of these attachment things before my doctor put them on!"); in this day and age of the Internet, you have no excuse not to do extensive research before making a decision to undergo an expensive, cosmetic, medical procedure. I've known fundamentally what to expect at every stage of the game, with the exception of the Aligner Chewies (which are, frankly, one of my favorite parts of this experience).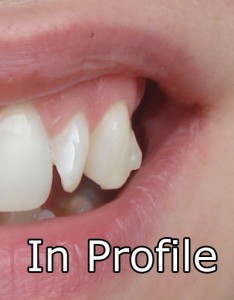 Most of all, especially in regard to the attachments, people seem to be enormously self conscious. Now, I don't claim to be a stranger to self-consciousness about the attachments; I did enough research and asked enough questions beforehand that I knew I could opt out of having attachments on my lateral incisors (the teeth on either side of my "two front teeth"). I was not at all pleased when my doctor insisted on having attachments on my top eye teeth, but now I'm glad he did insist. The attachments aren't as noticeable as I had feared, and my eye teeth really do need rotation; the left eye tooth is one of the teeth I find most aesthetically bothersome.
This process has led me to some conclusions about human nature. We all think that people are playing a hell of a lot more attention to us than they really are. Before I started the process to get Invisalign, I never noticed people's teeth. Now, it's one of the first things I notice about a person (because I'm currently obsessed with teeth as a result of this process.), but the majority of people aren't paying close enough attention to see little bumps on my teeth. Lots of people have all kinds of crazy and funky things going on with their teeth (I know, because now I pay attention), but most people are too busy thinking about their own lives, their own concerns and their own self-conscious hang-ups to scrutinize my teeth, or anyone else's for that matter. Even if they do notice the bumps (which are a lot less visible than ANY other type of braces, including the ones that go inside your teeth), they probably won't register the fact long enough to care. This is coming from a person who works in a profession where my teeth are extremely visible. I talk and smile with people at close range when I'm dancing, and that's a whole lot more teeth visibility than most people experience in their daily lives. If people don't notice my attachments, whose are they going to notice? Perhaps if you need attachments on all your top front teeth, but again, they are so much less visible than even clear braces!
And so, in the wake of getting my attachments, I have taken a decidedly "embrace my braces!" attitude. As I mentioned above, I got my attachments put on halfway through my time wearing the third aligner. My teeth had already gone through the initial move, stopped aching and had grown accustomed to the third set when I got the attachments put on. After a day with the attachments and the same aligner, my left eye tooth (the protruding one) was hurting anew, so I know the attachments are doing important work that the aligners could not accomplish on their own. Again, this pain isn't some excruciatingly traumatic event, it's just initial soreness that abates after a day or so.
In sum, attachments aren't as bad as everyone makes them out to be, most people aren't paying as much attention to your teeth as you think they are, and I feel like I'm finally a full-fledged Invisalign patient! It doesn't get any worse from here.